HARPENDEN - HERTFORDSHIRE
Water Coolers & Dispensers in Harpenden
You will find the town of Harpenden in the City and District of St Albans. Harpenden has access to a direct rail connection, through Central London, making it a commuter town. Services on the fast rail link include journeys to London St Pancras, thereafter, running north to Bedford. You have the option to head South, towards Gatwick Airport and Brighton, too. Whilst Harpenden harbours a small population of just 30,000, it is nestled in between two larger, more populous neighbours, Luton Town, and Hemel Hempstead. Harpenden is close to Greater London, however, still boasts verdant countryside scenes. Within the town, lies many abundant commons and parks. One being Rothamsted park. An incredible 56 acres of natural, mature forest. Within the park is a swimming pool, skate park and extensive lawns. Nearby, the Rothamsted Research Centre stands. Founded in 1843, this is the largest agricultural research centre. Another true gem within the area. Prosperity is another well-known attribute to this town. An analysis on most valuable commuter areas was recently carried out. Harpenden claimed 10th for the constituency paying the highest average income tax. The town has strong business links, resulting in Thirsty Work becoming one of the leading suppliers in their area, supplying our customers a range of bottles water coolers, mains fed water coolers, hot water dispensers and taps.
For over twenty years' we have been supplying businesses in the UK with their water coolers and dispensers. We have grown to become one of largest local water cooler suppliers, offering a full range of bottled and mains fed water coolers, hot water dispensers, and more. We are approved by the Water dispenser & Hydration Association (WHA). This gives you the reassurance that our bottling, installation and maintenance procedures are carried out to the highest hygiene and quality standards. If you would like to find out more, about what Thirsty Work can do for your business then, have a look through our website or contact one of our water experts, who will be able to help you out on 01442507020.
We offer businesses a range of bottled water coolers, mains fed water coolers and hot water dispensers.
More Details
More Details
More Details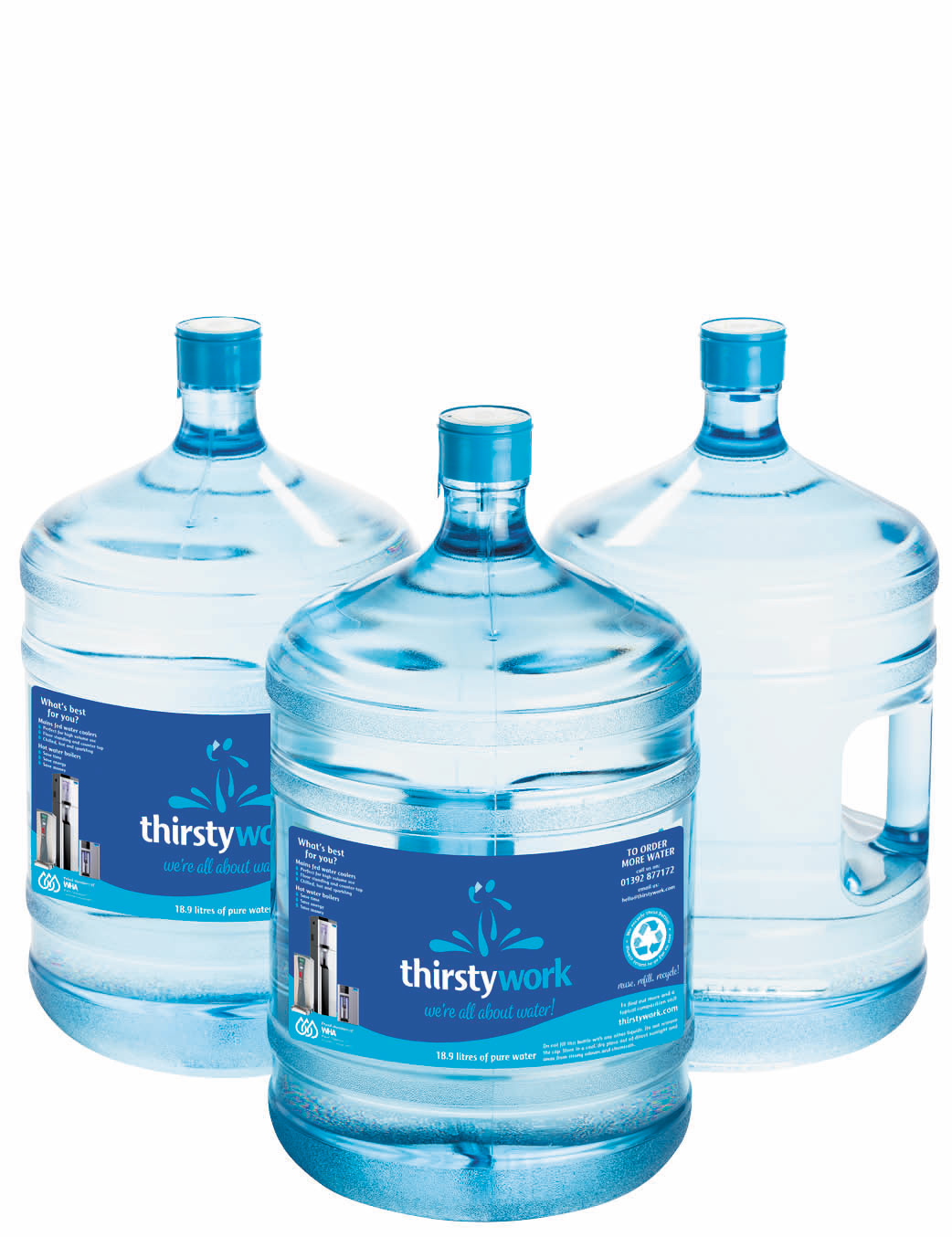 More Details
A Wide Selection of Water Coolers & Dispensers
Thirsty Work offers a range of water coolers & dispensers for all workplaces. Our water dispensers are designed to suit every space. We offer businesses a range of dispensers, which can provide endless cold water, with additional hot and sparkling options available to. Our dispensers come in a range of free-standing and countertop models to accommodate your work space. So, if you're looking for a water cooler or dispenser which will provide the highest quality of drinking water for you and your staff, then Thirsty Work have got what you are looking for. Find the right dispenser for you by looking at our range, or contact us directly for expert advice.
More Details
Service & Aftercare

>

---

Range of Dispensers

>

---

Knowledge & Expertise

>
Get a quote, and find out more information from our water experts.